General Questions
Are there any necessary qualifications?
No! If you have done some hobby coding in your spare time that might help you find your feet quicker but it definitely isn't necessary.
How long is the course?
The course consists of 12 weeks of training, followed by an 18-month job placement in industry with the option of making that a permanent role.
Do you need any previous coding experience?
No! No previous experience is required. We will provide all the training you need to become a confident software developer. However, upon application we will provide you with pre-reading which will enable you to take the technical tests we set. Please give yourself time to study this before taking the tests.
I'm currently studying, can I take this bootcamp at the same time?
Unfortunately, the course and placement are both full-time so you would be unable to study alongside taking our bootcamp and working during the placement.
Course Details
What are the hours and where is it?
Teaching hours are 10am-4pm from Mon-Fri. The initial 12-week bootcamp is ordinarily based in our offices in north London, but currently will be held remotely to ensure the safety of our staff and learners.
What languages/technology do you teach?
The course focuses on Fullstack Development. So we start with JavaScript and lead into further web development (React, Typescript, HTML, CSS) and then bring in C#/.NET as the backend technology.
How much is the course?
Free! We want learners with potential to be great software developers, not just those who can pay a large course fee.
What is the course structure?
The first three weeks will be spent on a bootcamp going through a series of exercises which increase in difficulty as you go along. We then introduce more general web development and finish this up with a group project. After this we introduce backend/server side technology and work through a number of exercises around this. For the final three weeks you will complete a group project. Throughout the course there will also be training in Agile practices, soft skills and interview techniques.
What size are the cohorts?
Cohorts range in size between 5-10 learners. We keep them small to make sure you get enough one-to-one time with the trainer.
Placements
Do I get a say in where my placement is?
Yes! We won't force you to take a placement you don't want but this is also why we can't guarantee that we find you a job as it is up to you to interview at for the placement and accept the role.
Will I be paid a salary?
Not during the 12 week training, but once you have successfully completed that we will pay you a £30,000 salary.
Will the placement be based in London?
The vast majority of our placements are based in London but on the off-chance they are based elsewhere we will offer a relocation package.
If you have any other questions please drop us an email at info@techswitch.co.uk or use the contact form below.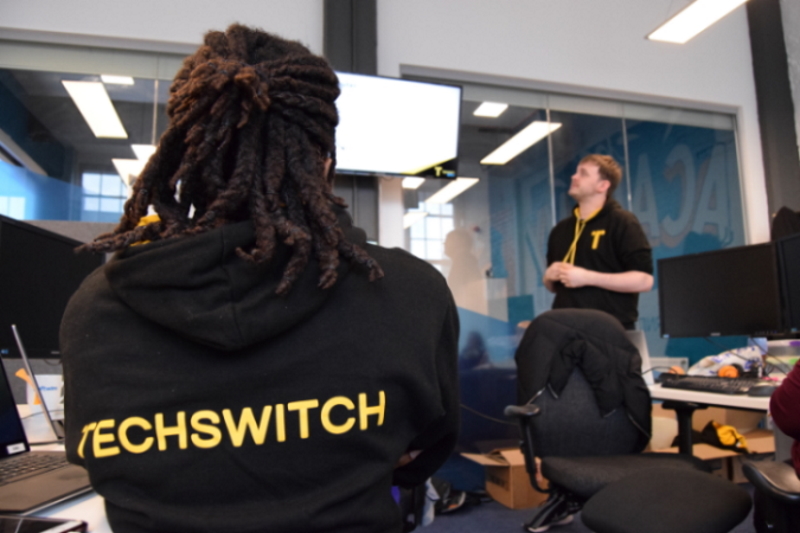 Get in touch
TechSwitch,
Unit 315 Highgate Studios,
53-79 Highgate Rd,
London
NW5 1TL, UK